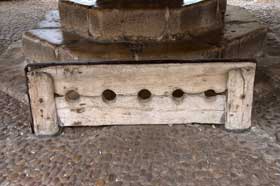 In the Wednesday August 30 edition of the Lexington Herald Leader, owned by McClatchy Newspapers, full page ads meant for families of Comair Flight 5191 were placed by attorneys. Without question, it was the most offensive single marketing piece I've ever seen in my career.
The Kentucky Bar Association named a special task force to look into complaints, and ads were pulled for the Thursday edition. The KBA's letter to the Herald Leader stated "The advertisements were offensive and outside any common bounds of decency and could not be more inappropriate while the families, friends, and this community are still grieving." They are trying to determine their legality.
If any families get direct contact by attorneys, they should tell the National Transportation Safety Board at (202) 314-6185, according to U.S. Attorney Amul R. Thapar. Thapar said federal law prohibits any lawyer from making an unsolicited communication with family members who lose a loved one in an accident within 45 days of the accident. A violation is punishable by a $1,000 fine.
I am relieved that decency (not to mention rules of conduct) kept local firms from putting ads in the paper over this. [update: Oops. Chalik and Chalik attorney Debi Chalik is a Lexington attorney whos firm placed an ad in the obituary section Wednesday. Missed that one earlier. She pulled her ad.]
I realize that the Herald Leader is in no position to reject advertising but I am disappointed they couldn't find some sort of administrative loophole to delay the ads, or perhaps the layout file might have somehow become "corrupted" until the KBA found a way to lock them out. I know, I know. To their credit, the Herald Leader is donating revenues earned from the ads to the United Way care fund set up for victims.
I also understand that there are good reasons to begin lawsuits early in such cases With litigation filed, it can open parts of the investigation early and let more people have more answers. It can prevent defendants from rushing to a settlement with confusing terms while victims are still in shock. It's harder to sweep stuff under the rug with the critical eye of the legal process staring over your shoulder via representation. Supeonas can expose important facts that defendents would rather not see the light of day – and hopefully be shared so that everyone can get answers to what happened.
But full-page ads in the obituary section?
The advertisers should take a moment and think about those waking up by themselves in their bed in the morning – empty spots at family dinner tables – the forthcoming holiday season – the questions about when Mommy or Daddy are coming home. It's too soon, things are too raw. If you've taken the years past to build a word-of-mouth reputation with your firm, now's your chance to enjoy it – but it's not the time to plaster ads in the face of tens of thousands of Lexingtonians opening the obituaries of the city newspaper.
UPDATE 9/26/06: KBA finds these ads probably violated law.