The Copyright Royalty Board (CRB) has has published a decision on Internet radio royalties, adopting the "per play" rate that SoundExchange had promoted. The rates that the Board has decided on, effective retroactively through the beginning of 2006. I've created a spreadsheet to calculate the reality of all of this.
IMPROVE THIS WORKSHEET, and SEND ME the new one. I'll keep posting improvements.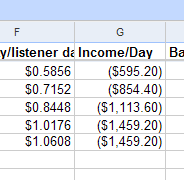 This assumes the advertiser can't ask for more than $3 CPM, but who knows where radio ad costs will go.
A performance is one song streamed to one listener, and so if a station has 2000 listeners who listen to one song, that's 2000 performances. Noncommercial webcasters get 159,140 Aggregate Tuning Hours (where the hell did they get that number?) per month, and pay the regular commercial rate after that. Oh, there's a $500/year minimum (hat tip to Chachi for the correction.)  Uh, oh. Time for a begathon.
I just question how they'll account for listeners, performances delivered,etc. and it will be interesting to see the MANY creative ways internet broadcasters will Torrent and Mirror their way around this one!
Random Follow Up ThoughtsÂ
Update: ASCAP recently asked the courts to count all transmissions of musical works to the public be considered public performances.
What about podcasts?
SoundExchange was designated by the U.S. Copyright Office to administer the collection and distribution of the statutory or compulsory license available to digital music service providers. SoundExchange collects royalties from "noninteractive digital" performances reported by cable music services, including residential Muzak, DMX, and Music Choice, webcasters, and satellite radio primarily XM and Sirius. The term "noninteractive" means that the subscriber chooses a channel rather than a particular song, and the songs that our licensees transmit cannot be manipulated by the listener, as in fast forwarding, rewinding, or downloading. Downloads are reproductions and are considered a different right not covered by statutory license and thus not part of SoundExchange's responsibilities. Such rights must be licensed directly from the SRCO."
So are podcasts the same as compilations? Well, not under current law if I read it right. But reading it right is not easy! I think that we need to extend copyright law to consider podcasting-like activities as new sort of activity so it can be addressed in the courts on its own merit.
After a walk to Starbucks, I got to thinking about Steve Jobs' recent article "Thoughts On Music." It leads me to wonder where things are going with music online. It makes me appreciate Woodsongs even more as a great ipod-filler. But that music doesn't appeal to everyone.  I think that Internet Radio, free from fees, seems like an ideal way for artists to give away a selection of songs for use on streams or podcasts, and then refer to full albums/other merchandise they want to sell RIGHT on their websites. We'd have a rich selection of music flowing every day, and a great collection to share everywhere, especially if you believe Steve Jobs manifesto.
Oh, yeah… if you're in Austin on March 15th, attending the SXSW Music Panels where David Byrne will be exploring the state of the music business from an artists perspective in a panel called "Record Companies: Who Needs Them?" That should be very good.  It would be great if someone would send me his response to the whole Internet Radio fee question, if asked.