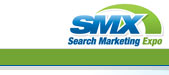 My Pals up the street at WebProNews have assembled a great set of SMX videos that everyone should take a look at.Â
Conference Videos:
SMX: Barry Schwartz on Duplicate Content
Barry Schwartz of Search Engine Roundtable discusses Duplicate Content Session and how it provided feedback from the search engines.
SMX: Michael Gray on Search and Google
WebProNews caught up with Michael Gray talks about search engine users and the Google junkie.
SMX: Jeffrey Rohrs on Paid Search
Jeffrey Rohrs of ExactTarget.com served as the moderator for the Paid Search Session SMX.
SMX: Matt Cutts on Duplicate Content
WebProNews caught up with Matt Cutts and asked him about his thoughts on his Q and A Keynote.
SMX: Eric Enge on Duplicate Content
Eric Enge President of Stone Temple Consulting talked about how he feels about the SMX Advanced Expo.
SMX: Matt Cutts on Webmaster Guidelines
Matt Cutts began the conference by giving a behind-the-scenes look at Google's Webmaster Guidelines.
SMX Seattle: Scott Woodard
Scott Woodard of Artisan Interactive talks with Neil Patel about the in's and out's of affiliate marketing.
Pre-Registration Fun at SMX
Microsoft Ad Center hosted a pre-registration party for the Search Marketing Expo in Seattle.