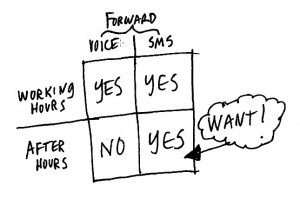 I Heart Google Voice.
One of the most important features to me is the combination of cell-phone simul-ring and the after-hours "work-life balance" feature… Using those features I can both stay uber-connected with my office and cell phone during the work-week but have calls routed to voice mail after hours and weekends. In addition, I can set up my key clients to ring through at extended hours if I wish. It rocks, and I can tell you that there are no other small-office solutions which do it as well. I've looked.

But the geek in me finds fault….I want a different schedule for my cell phone CALLS and SMS messages….
Here's the facts…
I want to get SMS messages all the time, but want to route voice calls to voicemail after hours (they are transcribed and emailed to me)
Google requires you to use the same schedule for call routing as SMS routing as of this writing (ug!)
I don't read email all the time on my phone after hours.  SMS messages generally need a rapid reply, so forwarding to email introduces a long delay (asynchronous.)
Google's SMS Email Notification feature does not let you choose the destination email address (ug!)
So here's a work-around that works around these issues and forwards along your SMS messages to the phone as SMS after hours by routing them through email (hey, that sounds like a Dilbert line!)
Determine the email address for your cell phone*.
Using Google Voice's SMS forwarding feature, forward your SMS messages to your primary email address.
In your primary email address settings, set up a forwarding rule that sends messages to your  your cell-phone SMS-email address, if they are from "

@txt.voice.google.com"

Voila!!  Google Voice SMS messages forwarded as SMS, even after hours, while calls follow the Google Voice Rules.
ps: yes, this costs standard SMS rates.
Limitations of the Idea
What about replies?  Nope.  This method doesn't let you reply DIRECTLY to the SMS, however , most smartphones let you click on the phone number (included in the Google SMS message) and call or text it.  It works great on the iphone.  This is a minor hassle IMO.
Desktop Email Program Users
If you're using Outlook or other program that is unreliable in forwarding email, you may want to set this forwarding rule up on a Gmail address – just set up two filters to forward your messages… one to forward to your phone, and one to forward to your regular email address.
What's Your Cell/SMS Email Address?
*Not sure of your email-SMS address, here's a list for most carriers, just put your 10-digit number (without the "1") in front of the "@" sign.
Alltel    @message.alltel.com
AT&T    @mms.att.net
Nextel    @messaging.nextel.com
Sprint    @messaging.sprintpcs.com
SunCom    @tms.suncom.com
T-mobile    @tmomail.net
Verizon    @vtext.com (text only)