I am always leveraging a company's PPC brand (and yes, 1+1=3 when it comes to having organic and PPC presence for brand-related searches) there are roadblocks brought on by PPC networks. In the past few months we've been dealing with an interloper who has used broad-match on Google Adwords to get around their trademark blocking policy… Note, none of these links are to the interloper in question, I'm just linking to informative posts related to it)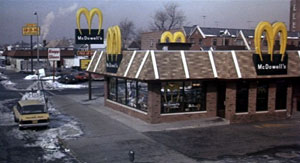 According to Google's documentation, Google Adwords will not allow competitors to actually use the trademarked keyword phrases in the text of its ads – but does not prohibit purchasing the keyword itself and presenting an ad. This seems to work most of the time, as illustrated by Shoemoney (where it kinda worked.)
For example, I do marketing for a national franchise, let's call it "Cheeseworks" (fictional) – and I have a high quality score placement on PPC and organic rank. But competitors are able to bid AND DISPLAY "Cheesework Pizza" on Google Adwords (singular, no 's'.)
Cheeseworks Pizza
Open a Franchise in Your Town
Excellent Opportunity – Low Cost
http://www.fabuliospizza.com
And then somebody else runs this one:
Cheesework Pizza
Are You Ready to Be Your
Own Boss? Learn More!
http://www.franchise-pizza-leads.com

(this company sells leads to franchises – again this is a fictional representation of a real case)
Yes, we filed trademark complaint about them using the singular version of this mark, but since they do character-by-character checks (apparently) – and rejected the complaint. If someone does broad-match triggering on "Cheeseworks Pizza" the ad with the singular version will show. This is wrong. Trademark/Brands are protected from confusingly similar derivatives. I don't expect Google to become an arbiter of trademarks – they need a scalable system that does much of this – but this case (it is a real case, just as absurd) they should consider the spirit of trademark law considering "use in commerce" and how their match types work.
The interloper had private domain registration and doesn't answer emails – we couldn't prove it but there was evidence they were selling leads to others. We had to spend a lot of effort with attorneys to send a C&D and a real substantial threat. The ad is off now, but it required huge work. We'd not expect them to get involved in the McDowell's vs. McDonald's case that was in the Coming to America movie. But this was simply a singular versus plural issue that anyone could see was illegal.
Upon removal of the ad (via our legal work) our brand-specific click through rate jumped 4%. This, over the course of several months, adds up to over $6000 in traffic not to mention possible loss of business to a competitor. There is real talk about suing the other advertiser for the harm done. I know Google wants things to be handled "outside" but this is one case where it shouldn't be.
At the very least Google needs to block by match type when infringement occurs. They should have disallowed broad match at least.
Note: I'm not an attorney – none of this is legal advice. If someone would like to chime in and clarify these issues I will be happy to hear it.
postscript:  I received an email from Google who has approved the singular version of the trademark block.  It took me three tries, and lots of damage done to my client, but at least it's gone now.  I want to be grateful but still I'm just mad.  
Image from "Coming to America" a terrific Paramount Pictures film. Highly recommended.