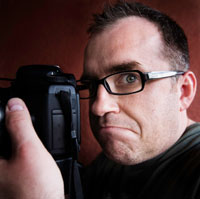 With increasing competition from a swarm of inexpensive stock photography shops and changing patterns in image purchasing, Getty , the market leader in stock images in the world, is offering its entire collection of photography with flat-fee $49 licensing.
Royalty-free images may be used multiple times for multiple projects.
Rights-ready images may be used in web or electronic media for commercial or editorial projects such as websites or email for three months.
Rights-managed images may be used in one commercial or editorial website, email or mobile project for three months.
This makes it possible for web developers, email marketers, and bloggers to use the best stock in the world in their work at very good pricing. Landing pages can be tested at affordable rates without spending a fortune on the images, and if a particular image scores a home run, a longer term license can be negotiated.
Photographers are not very happy about this. Such price changes, while here limited to web resolution images, will have a trickle-up effect on the higher resolution marketplace as buyers get used to the model. Acceptable license fees last year will now seem exorbitant, specially as x-gen media buyers begin to make decisions.
Photography groups organized and were able to get Getty images to drop their $49 plan license duration from 1 year to 3 months, but this was, in my opinion, a temporary concession to take some heat off. The writing is on the wall as advertising budgets move from print to the web, and user-created media is proven to provide tremendous return in advertising.
Getty spokeswoman Alison Crombie said, in the British Journal of Photography, that the license is an essential response to changing market conditions. 'The media industry has shifted over the last year and things have changed so much from the days of three-month print campaigns,' she says. 'For online use companies now want to use images that they refresh three times a day. It's high volume, fast usage and we have to be able to compete. We're responding to changes.
iStockphoto (the microstock site own by Getty) licensed 4.25m images in the second quarter of this year. There is huge demand for that type of content,' she added. 'We hope to encourage people to come to us, not go elsewhere. It's volume demand for us and our contributors from customers who might otherwise have gone somewhere else.'
Clearly aimed at blogs, websites, and email marketing uses, the images are at 72dpi, or "web resolution" "The new file size, which is half the size of the smallest size previously available at Getty Images, protects the value of your imagery, as well as the copyright, by making it impossible for these images to be used in any other way than online," Getty said in a letter to photographers.
I hope that photographers can find ways to supplement their income in creative ways – hopefully by inventing new markets or products. But it's a tough business that's changing rapidly.