It's not new, but to my blog readers it might be. Domain Names are serious business. And where there's serious money, there are some shady operations.
There's a buzz today about domain name kiting (tasting) – the practice of snagging names (for whatever reason) but putting them "back" before you have to pay for them. Domainers wish everyone would just be quiet, but now that mainstream news is getting a taste of it thanks to Bill Hartzer's excellent coverage.
There is a 5-day window during which a name can be deleted/dropped with full refund of registration fee:
This was introduced to provide a mechanism for Registrars and registrants to correct mistakes, reverse fraudulent registrations. Registrars involved in kiting scam, register thousands of domains against the large amount of money they deposit with Registry. Domains registered are usually the expired ones, which have been indexed by search engine giants like Google, Yahoo etc. Appreciable volume of type-in-traffic is received for these domains, which have now been parked, to generate revenue. Domain Parking presents viable option for domainers to generate revenue from their unused domains, by hosting a single page web site with paid advertisement links. Clicks from visitors to such sites, generates money for the domainer.
This practice manifests itself in many ways in the domain name marketplace. Bob Parsons, head of Godaddy.com, coined the term "Domain Kiting" and is a strong opponent of the practice – wanting instead to make the ICANN fee non-refundable:
Out of 35 million names — 32 million were part of a kiting scheme.
During the month of April 2006, a little more than 35 million domain names were registered. Of these names, 32.7 million were used – most again and again – but never permanently registered. These 32.7 million names were part of a scheme – a growing abuse of the domain system — one I wrote about in my last blog article. It's an outrageous practice. I used to call it the add/drop scheme. After thinking about it, I think the name "add/drop" sanitizes the practice too much, so I've decided to call it something closer to what is actually taking place. The name I've decided upon is "domain kiting."
Enter Network Solutions, a company I avoid at all costs. They seem to be practicing a form of this in a very public way, which is the topic of the buzz: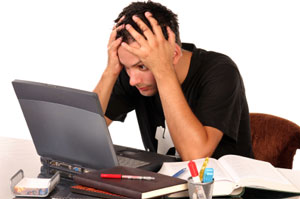 Here's how it works:
An average businessperson has a domain name idea
They search Network Solutions (or other source) to see if it's available
Network Solutions will immediately secure it with their OWN NAME "Name Available from Network Solutions"
You're now forced to spend 3x the price and buy it from them (since they "own" it)
If you don't register it, the registrar (e.g. Network Solutions) just gets a refund and has no further responsibilities.
Network Solutions defends the practice, saying it "protects the consumer" from far nastier domain name practices. Most don't realize the name will be returned to the pool after 5 days. Many other tools for finding names are also plugged into the idea, so it is not just NetSol.If you're interested in tracking the process, a rather technical, but very interesting method for tracking domain kiters.
There may be good news. GNSO, the organization that works on ICANN policy, may begin charging a fee for each domain deleted if more than 90% of registrations are deleted in the grace period.  Also check out ICANWiki's Article on domain kiting.

90%????? 0.05?????
Well, it's a start, I guess?