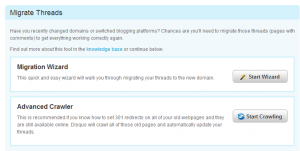 Disqus is used by a huge number of blogs thanks to its impressive set of discussion features, including threaded discussions, cache-friendliness, viral spread through Facebook connect and Twitter, email replies features and universal install-ability.
But there were some significant weakness for SEOs – and Andy wrote up a few of them earlier.  But he left one off of his list… If you wanted to revise a client's URL structure, you were stuck because the Disqus URL-matching feature would lose track… resulting in a broken link between the comment and post.   The system did not respect 301 redirects, so even if you followed the best practices in your redirects, you were toast.   Even simple permalink changes such as those done regularly in WordPress would render your comment streams orphaned from the posts.
The result?  One of the most important optimization approaches for poorly designed sites was rendered impotent by use of Disqus (or at least made much more diffcult.)
But Disqus has now introduced a thread migration tool where SEOs can alter the URL structure of a site (via 301s) and the Disqus tool will help you re-associate your comment threads with the new URLs.  COOL.  I will be doing this for a client next week and will add to this post about the process' success (or failure!)
I'm starting to have faith in Disqus again.