I was sad to see that EW James & Sons decided to pull out of the Lexington market. There weren't any stores convenient to our part of town, so I wasn't a customer, but I like to go anti-chain when I can.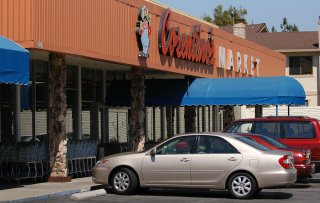 In California, my favorite store was Cosentino's on Homestead Ave in Santa Clara. We avoided safe and bought just about everything there. Michael Chu did a nice write-up about them on Cooking for Engineers. I was horrified to hear they may close, but hopefully it's just a rumor.
But the Herald Leader reported that Ken Pink, CEO of E.W. James said that they were moving out of Lexington due to advertising costs being out of proportion with the number of stores. While I understand the issue with advertising ratios (1 ad services 3 stores much more cheaply than 1 ad services 1 store) I wonder if passive media or interruption marketing could have been bypassed.
Could they have used social marketing more? Captured the anti-chain market. Gone after a niche and spread their good words via viral campaigns? Seth Godin's idea of an IdeaVirus may have saved the chain – while huge sums of money are needed for traditional marketing, permission-style marketing would seem a better choice.
Who would have been the "sneezers" for a grocery chain? What could they have done to become another Cosentinos (I never saw one ad for this store, and their website is a mess…but their scoop-it-yourself dry goods isle was known throughout the valley.) What ideas might have been tried?
What about appealing to specific ethnic groups? How about bringing someone from different ethnic communities and asking them how you could tune a portion of the store for them?
How about organic specialties with earth and environmentally friendly choices?
What about a "sin" isle full of the absolute most delicious and wonderful deserts available on the planet?
How about nutrition and cooking seminars aimed at the busy parent-of-two showing them how to buy items that can be easily prepped for the coming week?
What if you created a pre-prep section, working with one of the local pre-prep franchises selling a week's worth of food at retail, cooler exchange and all?
What if you create a "down home isle" full of items that would never be found in an upscale market – kind of a slap-in-the-face of the snooty stores?
How about humor? You could put punching bags in the isles that say "In a big chain store this would be a big display of diet drinks. Wail away, let 'em know how you feel!"
How about good music? I cringed the other day because I forgot my iPod at Kroger and had to listen to their incessant babbling ads on the intercom. How about LIVE music?
How about 1950s uniforms? What if you let people TIP the floor staff?
PS: Perhaps they could have been the first chain to locate downtown? As the new residential developments go up all over Lexington, we need a downtown grocery store. I'll shop there myself, even though Kroger is closer.