When verifying a Google Place page, Google assumes that you're a little Mom and Pop location where your friendly postman stops by to hand you your mail and sip coffee for a few minutes.   Or they assume that you can teach a low-paid receptionist to listen for a special Google Places validation robot to call and reliably follow its instructions.  Of course, this doesn't always work this way.  In fact, only around half of the time.  Here's a suggestion, with a hattip to my client for making me aware of it.
The Fix is Simple: Make the Contact Field Name LONGER than 20 characters.
As you can see, the postcard has boatloads of room on it.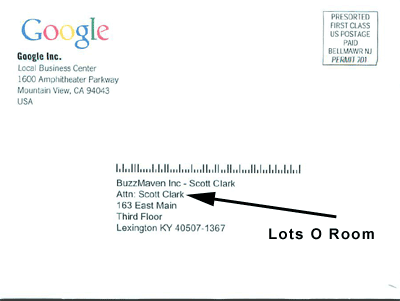 In my scenario, I have a marketing department serving a large company with 10 major locations and over 400 potential place pages.   Some of the places already have entries (from other upstream data sources) and many of those entries are wrong.
As you know many of these companies use inter-office mail – and it usually works pretty nicely.  At typical inter-office mail address is like this:
Rhonda Williams, Corporate Council, Building 5, Room 412
Current Google Places would let you enter this much of it:
Rhonda Williams, Cor

So, the simple fix is… Give us more characters in the Contact Name Field.  We can then put in the mailstop for the Google Places Coordinator and inter-office mail will work to get postcards to us!