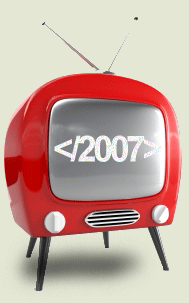 (ed:  This post is from 2007.. left here for archival purposes.)  Let the top 10/20/30 lists begin! Here's my top stories round-up, using information I collected as I write my latest article for Business Lexington. I'm almost certain to come back and adjust links, so bookmark me, and add your own – cause I know I'm missing some!
iPhone Stirred the Mobile Internet marketplace. While the iPhone earned raves for its interface and sleek styling, it still was designed to operate only on the AT&T/Cingular wireless network, lacked a keyboard and did not operate on 3G broadband networks. Buyers still swooped in after the device, buying one million iPhones in 74 days. The iPhone platform readily integrates a number of Internet technologies that will benefit greatly from the planned 3G version in 2008. Still, it's worth keeping in mind that the iPhone is still only around 1% of the marketshare. Later it was announced that a 3G iPhone will be available soon.
Merger and Aquisition Madness in the Search Advertising Google acquired Internet Advertising Company Doubleclick for $3.1B, Microsoft bought Ad Agency aQuantive (including Avenue A/Razorfish) for $6B, and Yahoo! bought Right Media creating a potential for conflict of interest in the web search advertising giants that some see as an unfair monopoly.
Google's Street-Level View Google's "Street View" solutions for Google maps allows a "virtual drive" of certain cities via 360-degree images captured by specially equipped cars. Privacy advocates quickly found people in compromising positions on some images and Google offered a "blur-out request form" on their website. Microsoft's version garnered some attention as well, showing scenes through the windows of a race car.
Social Media Meets Instant Messaging Twitter, Jaiku, Pownce and other companies surged in popularity as online social networks began to slice information into 150 character chunks called micropublishing or microsyndication. In short, a new way to connect with people (and brands) was born
Social Networks Get a Common Language Google announced the OpenSocial API which allows developers to write one set of code that taps into the data of any participating social network. Adopters included big players LinkedIn, Salesforce.com, MySpace, and Six Apart among many others.
Campaigning Changes with YouTube, Social Networks Politicians scrambled too exploit participatory media as YouTube's democratic debates in July and week-by-week campaign spotlighting in 2007 gave Campaign Strategists nightmares. Every candidate misstep became viral content viewed by millions while unaffiliated public endorsements outpaced campaign-sponsored content at times. "It's (like) the soda fountains of the 50s," he said. "It's where young people hang out" political consultant Rod Shealy put it. …if you say so…
The Personal GPS Platform Explodes Inexpensive GPS-based devices have gained huge penetration as prices plummeted. This has spawned investment into new Location-Based Services (LBS) which offer a wealth of tools such as traffic routing, social networks, and better ad delivery.
High Speed Wireless Internet Spectrum Auctions Google, Verizon Wireless, AT&T and other smaller companies committed to bid for chunks of the 700 megahertz spectrum that should bring in around $15 Billion to the US Government early in 2008. The frequencies are expected to be used for high speed wireless broadband Internet services.
Google My Location In November, Google, which gets mapping data from both companies, delivered a version of Google Maps for Mobile that uses cell phone towers' unique signatures to estimate a users' location, even without GPS.
Internet Radio and SoundExchange Those producing online radio faced a serious dilemma as SoundExchange, a Washington-based group representing record labels and artists introduced new royalty rates and rules for online performances. Online radio sites were used by over 25% of all Internet users. A broad campaign to fight the changes helped to win reprieves on the royalties for some web radio producers.
Internet Telephony Woes Ebay bought Skype for $4.1B in 2005, but wrote down the value of the Web-based communications platform by $1.4B and may be about to sell it to Google. Vonage suffered serious patent infringement losses and was forced to lay off workers and cut back on feature roll outs.
Viacom Sues YouTube Viacom sued YouTube's parent company Google for $1-billion in damages as a result of 160,000 unauthorized videos collectively viewed over 1.5 billion times. The suit seeks removal of the videos as well as the monetary damages and an injunction prohibiting Google, which purchased the video-sharing site for $1.76 billion last year, from further infringement on Viacom copyrights. Google promptly adds filtering technology to YouTube.
Newspapers Keep Struggling Jobs were slashed at large newspapers as busy Americans continued a 20-year trend to turn to the Internet, all-news radio and cable television causing newspaper circulation to plunge. Advertisers are wary to spend as much on print but while newspapers race to grow online editions, ad revenues do not compare with previous levels. The Washington Post bought online magazine superpower Slate in an attempt to increase its move online.
Record Labels Get Slapped by RadioHead The popular band RadioHead announced their album In Rainbows online, without a record label, for "whatever listeners want to pay." The effect was to set a precedent for what some see as the end of the traditional music industry in the next decade. One thing is for sure, it's changing.
Facebook Passes 50M Users The social media platform passed 50 million subscribers and a valuation of over $15B including a quarter of a billion dollar investment from Microsoft. Developers worldwide applauded the move to open up Facebook to 3rd party developers, and Microsoft immediately got involved with investments and high-powered developer tools such as the Facebook Development Toolkit. Developers (and Advertisers) can build full featured applications and link them to programs with users' profiles and navigation. Facebook launched its Beacon advertising system, causing an uproar because of its opt-out nature. Later, founder Mark Zuckerberg apologized for the system being too aggressive in showing ads to users.
Amazon Releases Kindle to Mixed Reviews Amazon released its electronic book reader and wireless platform, Kindle, and while the device itself wasn't universally loved, it could mark the start of a whole new industry for digital ink and collaborative literature.
Microsoft Office Competition Google Released Google Apps Premier and began giving away StarOffice in Google Pack for free, offering a powerful on and offline alternative to Microsoft Office. The new Google programs also include presentation tool Google Presentations, a competitor to Microsoft PowerPoint.