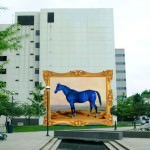 Postscript:  I changed my mind.  I'm already tired of this blue horse thing.
In 2010, Lexington will be the first American city to host the World Equestrian Games, a big, big deal with over 600,000 attendees coming to the games.  Naturally, Lexington is trying to put on a good show – and is starting to feel the pressure.  New building projects seem to be destined to go down to the wire and I'm just hoping that nobody gets pie in their face.  The event will focus attention on Lexington for a precious few days and could be a huge boost to the struggling economy.
So the Lexington Convention and Visitor's Bureau asked Pentagram to develop a visual identity program – and Big Lex is what they came up with and I'm pretty impressed.  It is centered on a blue horse, supposedly that this color by eating Bluegrass its entire life – and the color match to the University of Kentucky school colors doesn't hurt.
There will apparently be a large oil painting (original by Edward Troye) downtown (I mean building-large) and a big sculpture of a blue horse with changeable banners where the farm drape normally goes.  Billboards and t-shirts will be made of course, and I'm thinking it won't be long before every other car in school carline has a blue horse bumper sticker on it.
Sadly, they didn't get biglex.com – it's owned by a forensic evidence company (doh!)  And the first search for "big lex"  it on Google returns a  review of a porn film whose production company shares a similar name.  But at least they're trying, and I think it's a good job:
"This contemporary interpretation of a classic art genre is the primary component of the new identity. It gives the city an unforgettable signature that draws attention to a legendary horse and the unique place that shares his name. " – Pentagram website
The Convention and Visitor's Bureau has set up a rather boring method of reporting "Big Blue " sightings.  I would love to have it set up as a mobile app or at least using a Google map mashup
So soon, will people start painting their horses and pets blue?   Sounds like a seriously good opportunity for pet groomers and vets in the area.
This immediately got me thinking of Seth Godin's "Purple Cow."   I think that this could definitely be some great news bait if they let it go a little bit crazy.  I would love to see a herd of blue horses along the road into Lexington.
I'm seriously hoping that Lexington also shows that it's a tolerant, educated and dynamic city that offers more than just equine fun.  The city is striving to grow its downtown and encourage creative class [pdf] entrepreneurs to start new business, and for UK graduates to remain in the area after they get their diplomas.
Clearly, the big blue horse won't do that, but it's edginess is a step in the right direction.  I'm proud of it.   It's wierd.  We need more wierd around here.
Update:  Wow, what an uproar – look at the comments.