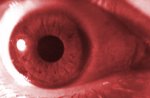 David Rittenhouse at Clickz recently published "Behavioral Targeting Is Starting to Look Better" which includes some interesting information nicely summarized from the eye-tracking study done by TACODA with Next Century Media.
There are lots of interesting bits in the article, as David points out, but one thing that struck me was the reports reference to something known as "suprise factor" which describes how behavioral ads do not get the drop in effectivness upon repeated exposures that contextual ads do.
It's a bit like seeing the same person in several stores when you're out shopping or the same car keeps pulling up behind you at stop lights. Hey, is he following me? Why does that guy keep showing up?
Could it be that behavioral marketing works because we have a paranoia about how in the hell they knew to show us THAT ad, and our attention follows our fear? Ah…maybe I'm just being paranoid.