Last June, I ribbed Lexmark about their slogan, "We're Always Working." Now they've decided to see if it is really the case, and if productivity has climbed over the last 5 years. So, they asked Ipsos to interview 711 knowledge workers between Oct. 10 and 24, 2006 as a part of a survey of knowledge workers. People who work from home some of the time are more likely to claim strong increases in productivity. What's not clear is if those hours are in addition to the normal 40 office hours, or part of them. Some hilights: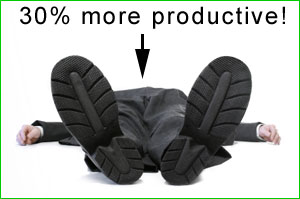 66% say they are somewhat more productive than 5 years ago.
37% say they are much more productive.
6% say they are less productive (AOL users? Bloggers? LOL!)
83% believe access to technology makes them more productive, especially among the "constantly connected," buzz, buzz, ring, ring crowd.
75% of those who work at home at least an hour a week say they're more productive because of it.
55% spend at least one hour per week working from home.
34% spend at least five hours per week working from home.
11% spend more than half of their work week at home.
3% were very, very much less productive. I think they were bloggers.
Of course, Lexmark this study to bolster demand and awareness of the market for their All-in-one printers. We have one of the new ones and it's pretty nice. So perhaps the survey didn't show that people are always working – just doing it in different ways thanks to connectivity.