As most of you know, split testing your ad text – not just for click throughs but for conversions – is one of the most important pre-click optimizations you can do with Google Adwords.  Ad text optimization is an iterative process where we run experiments on different approaches to headlines, description text and display URLs.  You eliminate the poor performers, introduce new test ads, and claw your way upwards with respect to the click through rate.
Many people don't realize how sensitive searchers are to small variations in Ad Text.  A capital letter or a dash can change the clickthrough rate as much as 10-20%!   Those of us who have worked in Adwords for any length of time have built up a bag of tricks for boosting CTR.   Use of titles, capitals, trademark symbols and specific calls to action are all part of this.  Included in these variables is word position – and we just lost control over that.
Full Width Ads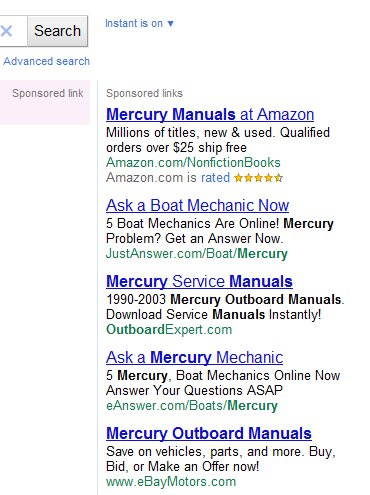 Wrapped Text Ads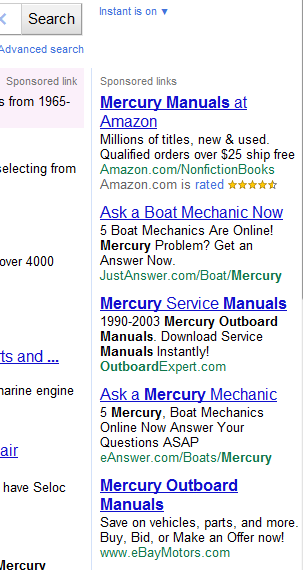 If you're not an Adwords advertiser, you may not feel this is a significant issue – but trust me, it is – especially in highly competitive spaces where every tenth of a percent of clickthrough rate means big money.   Now, we will be less able to pinpoint the ad text which has improved the performance of an ad, or positions of words as a part of text optimization.    The wrapping asks more of the user – to read three lines of text, not just two – and words on the third line will rarely have meaning on their own.  It really changes the way these ads will be written.
Screen resolution makes a difference here – but people can still run browser in smaller-than-screen-size windows.   I found it easy to cause the wrapping in "normal browser use" sizes.
I did notice that if Google Adwords Image Product Ads are being shown the ads below them don't seem to wrap.  On the left, I searched for "Computer Speakers" and on the right "Computer Classes"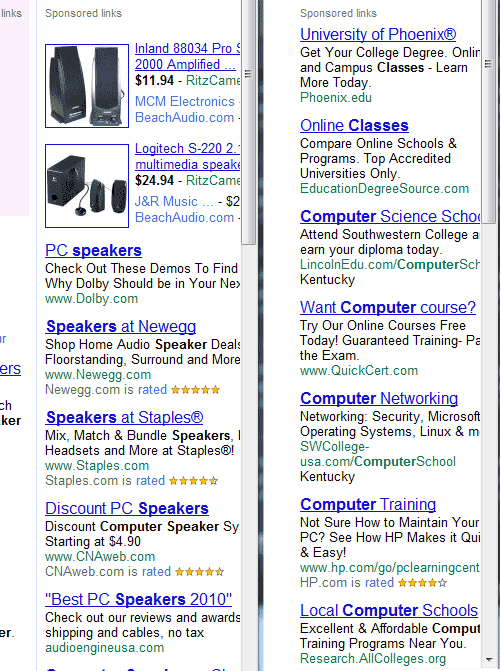 This is even more of a reason to go for high quality scores to achieve the premium adwords position at the top of the page – that area doesn't wrap nearly as often.