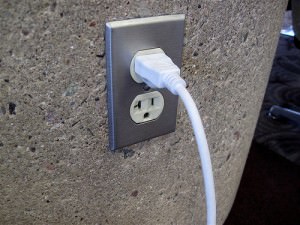 Those of us who fly with electronics (ahem… it's everyone) have all felt that someone is out there, trying to make travelers' lives difficult worldwide.
I imagine a fat, foul-mouthed, abusive and alcoholic architect that airports call whenever it's time to build or renovate a terminal.  Why?  Perhaps its just habit, or perhaps they've made a deal with the devil and this is the price paid.  He laughs through his cigar with his whole belly and regularly tells people to "get the hell out" of his smoky, dingy office covered unopened trade journals and past-due bills reaching back to the 1970s.
I can also imagine the victims of his attitude… those newly-minted Y Gen architects undermining his fiefdom with radical suggestions.. "We should put free 4-plug electrical outlets waist-high every 5-6 feet for travelers who would like to charge their devices between flights.  To pay for it we could make the outlets into a marketing tool – attaching a small sponsors' placard."
I pause for a moment of silent respect of these brave souls, limping slowly away, boot-print on their rear, and ask them to keep fighting the good fight.  We can see you're making headway. We all need you.
photo by Alan Levine