First things first. I know journalism is hard and that these folks never set out to be a web-centric organization. But the reality is that the audience is using the web and mobile devices to consume your information and share with friends – on their terms. So In the midst of our recent ice storm (as people looked for news however they could get it and often needed to use alternative means)
Some ideas for Local TV Stations To Fix after the Ice Storm is passed…
1. Your RSS Titles must be usable (and useful) on any RSS reader. Titles for blogs and posts like those below are not usable or helpful to those using your blog feeds on devices and using software such as Google Reader. I get the impression your blogs are written entirely for those reading on your website – and suffering through banner ads. To fix this, adjust your content management tool's RSS output so that you get real, useful titles and descriptions even when you are looking at the feed away from the browser. This will increase your audience and spread of news. Some local TV stations don't even bother to post their RSS button (but feed auto-discovery finds it.)
And if you're worried about advertising impressions – there are other ways to do it than by forcing people to your banner-infested websites – the web is full of other ideas.
Here's an example of problems:

And another example (You don't need to make the date and time the Post title… the blog software does it for you) … and "Bill's Blog" honestly tells me nothing when I'm looking in a list of 100+ other feeds. How about "Bill's Lexington Kentucky Weather Blog" — that'd be fine.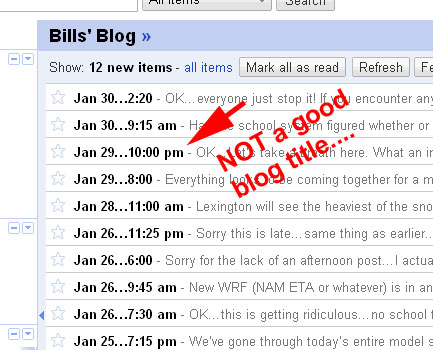 2. When you're providing news information, make sure your video clips are current or remove them . It could really confuse your audience . Screen shot here… the guy reads a 3-day old weather forecast and I freak out thinking there's another frigging ice storm coming.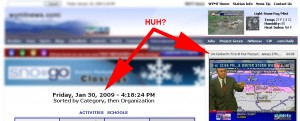 Click to enlarge
3. Maintain your authority by doing SEO on your website. It shouldn't be possible for an average blogger / SEO guy (ahem) to outrank you for local news like this: Lexington TV News reports should be covering the (whole) first page of Google. It's not easy, but you can definitely do it and obtain new audience from it.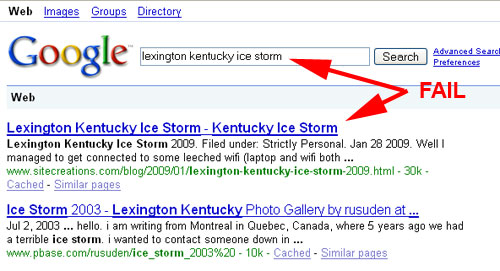 How can I outrank every news/weather site in the region about the Ice Storm with one post?
4. Don't vomit on your audiences' screen. What were you thinking when you designed a page with over 40 elements? Basic human interface design is a mature industry. You don't even need to hire someone, but at least do some do some reading or buy a book and learn a bit about web design before doing something like this…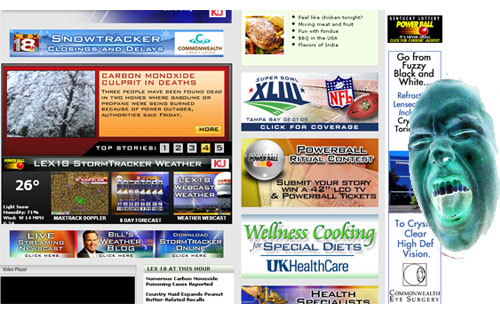 5. Keep your design consistent. I liked this simple design of the home page for this site…at least compared to the others' (though it didn't work well on Mobile) – but when I clicked on "Weather" and it felt like I went to a totally different website – different color, style sheet, font, ack!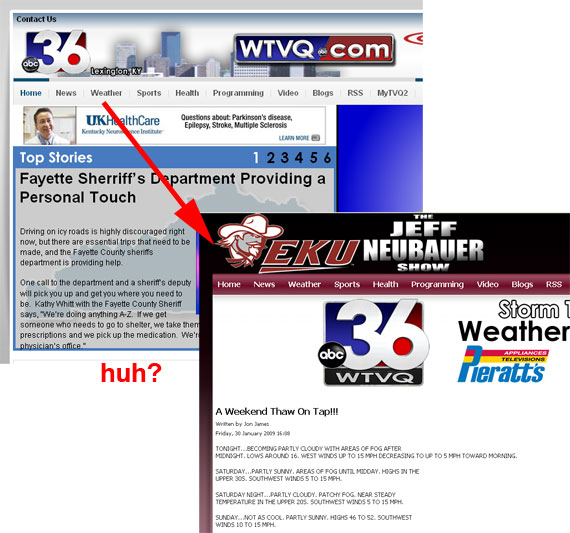 Did something break?
6. Don't assume that your audience knows all of your "celebrities". I found this on several news sites I visited. There is some kind of assumption that you must watch the TV news so know exactly who these people are. If you came in wanting to read about NASCAR, you're lost… (hint: It's Tom Kenny)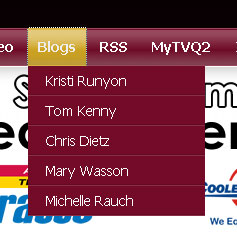 Do I know these people?
That's my little rant. I'm not picking on anyone – I know everybody's working hard. But these issues jump right out when you finally decide to try to use the web presence for the TV station for something useful. Soon this will be your biggest way to get new audience members – I hope these folks will take such things seriously.