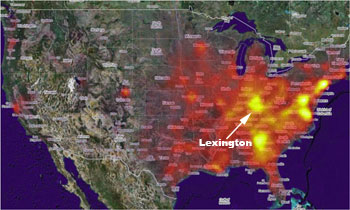 I hope you'll indulge me a little local Lexington Kentucky bragging… Our city was ranked top 5 in Forbes' "Best Places for Business and Careers" for 2008. This doesn't really surprise me. It's also cool to revisit the heatmap generated by the Creative Class Group where the Cinci/Lou/Lex triangle glowed brightly (see below). The graphic shows how areas are feeding off of neighbors with creative class attributes (which explains Seattle's lack of a glow.)
The top 5 on the Forbes list were
Raleigh, N.C.
Boise, ID
Fort Collins, CO
Des Moins, IA
Lexington, KY
The Lexington rating was based on Forbes' criteria applied to the 200 largest metro areas based on
5-year job growth
5-year income growth
Cost of doing business
Cost of living
Crime rate
Educational attainment
Presence of 4-year colleges
Cultural and recreational opportunities
Net migration to Lexington.
The ranks for Lexington were
Colleges #43
Cost of Doing Business #40
Cost Of Living #41
Crime Rate #95
Culture & Leisure #156
Educational Attainment #37
Income Growth #125
Job Growth #110
Net Migration #67
Overall #5
As you can see, the biggest boosters for the area were low costs, high education level, and presence of good universities. As encouraging as the rank was, job growth was #110 out of 200, which is slightly troubling. t is my hope that we'll see more inovation, cultural expansion, downtown development in both retail and residential, and control over sprawl into the horse farms.
I think one of the biggest challenges for Lexington will be the adoption of a creative-class attitude (despite our #9 rank in Richard Florida's book on the subject,) workplace flexibility, outdoor recreation (even those not related to horses) and look forward in its marketing and tech infrastructure.
But reading this, today, makes me glad that I left the Silicon Valley for the Silicon Holler.
Cloud/Skyscraper photo by code poet (jim) used uncer CC License