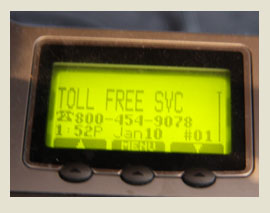 It's been around forever. So why don't companies use it?  (yes, even with call centers)

This case was Chase Credit Card Customer Service – (caller ID to the right) and they immediately ask for my credit card number. Uh… okay. Not.
So I look up the number on whocalled.us, and find out it's Chase bank, and 28 minutes later I learn that it was just a silly charge they wanted to verify.
Oh, by the way, they had frozen my Visa card, and when they called, they did NOT leave a message.  I guess I was supposed to figure it out the next time I used my credit card.  How sweet.
Why couldn't a company like Chase just turn on bloody caller ID and say "Chase Customer Support"