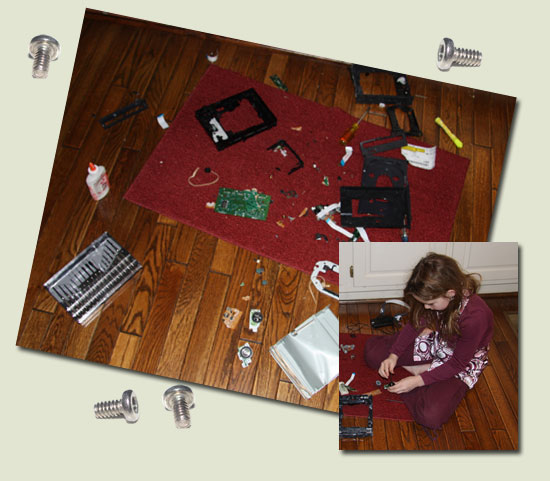 The weather was crappy this last weekend, we were all a bit under the weather, and I wanted to leave the TV and video games turned off.  So headed into the electronics graveyard and pulled some CDROM drives.  And the fun begins.
Those old electronics parts are fun to disassemble, and it is a terrific teaching experiment for kids. But the key to me is that it takes the "mystery" of out technology. I see that as one of the major obstacles to the professional advancement of so many out there. "I don't like computers" or "I don't understand those things" is such a common excuse for people who are stuck in today's economy. Get a small electronics screwdriver set before you start.
I don't have an agenda with the kids. They can stop whenever they want. I don't do lectures. I just answer questions. Like… what a belt drive is for. What's amazing is how many questions there are. It's a terrific bonding experience.
In many cases, you should seek out a recycling solution for working computers. I know which parts are going to be useful and which are not, and if they ever get a decent recycling program here in Kentucky for PCs you bet I'll participate! As for now, they want you to take stuff for >1 hour drives unless you live in Louisville. Someone chime in if I missed something.
If you have good stuff to get rid of, use a Manufacturer' Take-Back Program
Dell Corp. – Dell Recycling
Gateway Corp. – Trade-In Program
HP/Compaq – HP Planet Partners
IBM Corp. – IBM PC Recycling Service for individuals and businesses.
Toshiba – Trade-In and Recycling Program
Oh yeah, don't forget. Some things have hazardous materials in them. especially monitors and batteries (yes, even flat screens.) Other things are sharp and so forth. So use common sense in what you take apart. Look online for information about this. And never, ever break hard plastic or do any hammering without safety glasses on. This you knew, but I had to say it. Be smart about this stuff. And if you're smart enough to do this with your kids, you're smart enough to know that little bitty parts do not belong in toddlers' bellies, right?