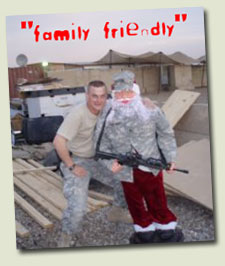 100%. That's how many of my comments have been censored by local Lexington TV Stations, dropping any credibility for a real attempt to build a community online.
I wonder….If you have something "thoughtful" to say, perhaps not jibing with the bible-beltish, hyper-conservative viewpoints, would it ever be published? From what I can tell, the only thing that makes it in are "God bless our troops" or short, brain-dead "hollerin'"
All of my comments were SFW. I'm not a trouble maker, well, not really, nor am I a minion ready to "cute" my way on the screen.
"We have to keep our comments family-friendly" — oh really?
So that is why you post Santa with a M-16. Yee haa.