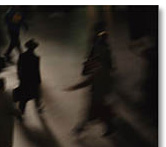 I was swindled last week.
I poured my heart out about a post (this is the "copy") I found at creativebits.org being one of the best I'd seen in 2007. And today, I realize it was a knock-off. Others tried to express their concerns, as well, in the contents area of the post, but it appears they were ignored.
The original post, 10 Absolute "Nos!" for Freelancers, written about 60 days ago by Samuel over at the "Sleeping Late: Freelancing, Online Income, and Sleeping Late" blog, is A BRILLIANT list of guidelines that would serve any consultant well. Print and memorize it if you're in web development (or related ventures) and you will find more success with less heartache. Nice work and Great Blog. 2800 Diggs and counting and it deserves the attention.
Fooled …I shake my head, but earlier I even went over and gave the copy a vote at Mixx.com. I wonder if CameronLow or the other 56+ voters knew it was a copy? I'm betting that Joshua, James, and Thomas didn't know. The tiny little attribution links or mentions at the bottom doesn't cut it. In my mind, creativebits had written, sorry, pasted the article on their fully-monetized blog with the intent of enhancing the blog's reputation and ringing the cash register.
(ps: It appears in several other autoblog sites and and in another, obscure blog that somehow reminds me of those pictures you see of Chinese knock offs that say "Sone Playstaten" – this one even disabled the links. Ug.)
Lastly …
I'm not used to this in the blogosphere I circulate in. A blog is mean to be authentic, transparent, and to help us learn about the very essence of the organization or person writing it. It builds trust that is returned through through comments, links, and attribution. To copy posts from those who spend the time and energy to create great stuff is to break trust, and people are getting called out about it. This stuff wouldn't be tolerated in print, so why would it be online?
It's not that they had a RSS feed, forum posts, or blog excerpts, which can be done in a respectful way that in my non-attorney opinion invokes "fair use." They copied the whole damn thing.
I've been told the readership of creativebits is a "small group" – but I ask, what is a "small group" on the public Internet, and does that matter? The post shows up in Google, in Technorati, and other search engines. So, please find a better excuse.
So, have I missed something about the blogosphere, fair use, and what has transpired? Do you agree with my point of view?
As I had review creativebits.org, I find great content, some very interesting posts, and a lot to like. But until they start giving authors their due, they'll have to do without this Kentuckian's participation and link equity.
If this is happening to you, there are some great resources on the issue you should check out. But most importantly, keep your cool and enjoy life.