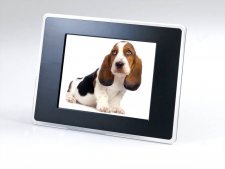 Postscript: Please review the "issues" list at the bottom. Added Tips are AFTER the jump

My new eStarling Frame arrived from amazon.com. I had low expectations after trying the last version, and hearing about the first. For those of you saying "this is old news" keep in mind that this is a new, bigger 8″ 800×600 eStarling, not the low-res little one that Gizmodo reviewed back in May.
NEW COUPON CODE : ThinkGeek Has The eStarling Frame: Click Here to Get it.  Use Coupon Code RAMEN

Some observations:
Setup is cake, assuming you have a wireless network already. 10 minutes.
If you haven't tagged your images in Flickr, get cracking because the RSS function is the main reason to own this… but it has one caveat… you can't just let it stream unlimited images – it limits to 40 unique images in 12 hours. Go figure.
The viewing angle is huge, you can almost see it edge-on.
It is bright! Really nice. The color isn't perfect, but it's pretty darn good.
The picture quality is very good, as good as any I've seen. (800×600)
It's sleek … more MOMA than Radio Shack
The controls are simple, except for having the pause the slide show before you can do many things (hey eStarling… pause the damn thing for us, will ya?.)
It has a message function for giving the kids notes via the web. But see below, cause it's lame.
Your flickr images must be marked public. I DO NOT KNOW WHY. It's possible to set up trusted feeds with Flickr.
Some wishes:
Tie the message function into SMS so I can message the frame.
Include a motion sensor to turn the frame off when nobody's around. Note: it does have a power save function to turn it off at night, but it is not weekday/weekend aware. Bah!
Bigger bigger bigger.
Ability to do "ALERT ALERT" screens so kids will come over and read messages.
Postscript: Looks like eStarling is unloading its old frames on ThinkGeek. (10/12/07)
Postscript: Issues with the frame after 1 month (11/11/07) If eStarling folks would like to chime in and give the real answers to any mistakes I'm making, I'll be pleased to try them.

You cannot directly copy photos from a media card onto the frame memory. You must leave the memory in the frame. The on-frame memory is only for retrieving stuff from on-line. So… get ready to dedicate a portable media card to the frame.
The online refresh from RSS is s-l-o-w.
The best thing to do is take an old memory card, fill it with your best photos, and use it to shuttle images from PC to frame and leave it there. The Estarling will then mix photos from your card and online sources.
The "message" function sucks. Why it doesn't put messages in the center of the screen eludes me.
Estarling support, thus far, has been horrible. Each email takes days to get replies, there is no support forum, the online demos are marginal, and answers are over-brief.
The "upload to frame" from PC feature is A JOKE. One at a time you say? Right. I have hours to spare. Let us select a folder of images and queue them!
Inserting media "errors" on me 50% of the time. As far as I know there is nothing wrong with my CF cards. If I get this error, I have to reboot the frame.
More Tips after the jump
Picassa Users:
Get a cheap, dedicated CF card. 128-256 MB and consider it "dedicated" for the frame. Format it once, and run scandisk on it to be sure the FAT file system is fine. This will hold 250-350 images at 800×600.

Use Picassa's "Hold" tray to select images for your frame. Select all of your favorite images in Picasa by selecting them and clicking "hold" to put them in the the tray for exporting. When you have all of your favorites in the tray, "export" the photos to the drive letter for the CF card (assuming you have a card slot/reader on your computer.)

Use Picassa's Batch Editing function to adjust the color for the placement of your frame. Try taking one image and tweaking the colors of it until you have 5-6 examples. See which looks better. Then, you can do the same edit via batch on subsequent frame loads.

Mark 800×600 as the size for exported images. This makes things faster and uses Picassa's resize algorithm which I think looks better than hardware resizing. I've also done a batch edit on the group while they're in the hold tray to reduce the contrast of all of these images before using the frame. I often do a cropping to make vertical images horizontal before the resizing also. This all depends on your images.

Picassa Crashes Suck. Since it takes a while to mark them all for the Hold Tray, and Picasa has been known to crash at the worst moments, occasionally hit the "starred" button. This information is saved immediately in Picassa, and you can always get your pictures back in the tray by sorting by "starred" images and re-adding them to the hold tray.

If all goes well, you'll have around 250 images / 128 MB that you can leave in your frame. Your RSS images will be mixed in over time (at a slightly lower priority.)