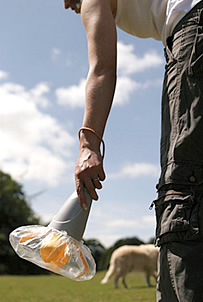 I'm not making this up. But since my kids have a dog, it caught my eye. straight from 3 Dendy Road in South Devon – probably attached to one of the cleanest patches of turf in the whole of England, if this pans out – a talented industrial designer has created The Poop Swoop . Roughly a canine version of the Diaper Genie (an absolutely genius product, I'll say from experience) the thing is meant to keep you from using your hands (through a bag, surely) to remove the waste. Very civilized.
From the Poop Swoop site:
"Yuk! We all hate dog poo! But we love our dogs!!!!! That's why we went away, dreamt up, and patented – The SWOOP. The SWOOP really is your second best friend. It's patented design GRABS and BAGS your pooch's poop in a single action, concealing it away, leaving you free to dispose of it in a hygienic and responsible manner. "
I'd like something more passive or at least entertaining. Where you push a button and a light blue glow and fresh pine scent marks the end of terds. Or perhaps a second button on this thing that would hurl the payload at cars driving too fast in the neighborhood. But I digress.
Surely NASA could provide a little insight since they're spending tax dollars to extract electricity from crap already. Wouldn't it be short leap to turn fido into a cell phone charger for my Blackberry? Short of that, like many, I'm sorely tempted to let natural biodegration take it's course.
But Poop Swoop's site lays on the guilt:
Do you walk down the street risking the paparazzi catching you, swinging your plastic bag above your head like a medieval weapon. Or do you do the unthinkable, something that only the Late Great Barbara Woodhouse would do and the hardiest of abattoir workers, that is: pocket it!
Perhaps I'll not go to Paignton on holiday after all.
All of these inventions are based on a vertical tying business model, where the costs of production and marketing are made up later in costs of bags. The bags for the Swoop run about $0.25-0.28 each. Similar human versions of these bags are about $0.12-$0.15 as long as some blogger doesn't ruin it for them they stand to make a shitload.
Postscript: Then there are people more creative who figured out how to entertain kids and take care of the problem, too.