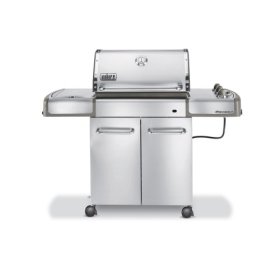 Well, we need a grill. Badly.
I noticed last time the hose was leaking propane gas out the hose while you use it, and someday, it will light up, roman candle style, and give the cook-of-the-moment a magic rocket ride over downtown Lexington, Ky. If it happens, please, someone post it on Youtube for me. Actually, we've stopped grilling, so no need to send over Fire & Rescue. Various duct tape suggestions did not earn husband points, and Fall is an excellent time to buy grills.
Our last grill lasted 12 years with 3-4 uses per week. I wanted the new one to last at least that long, and we wanted to find one that was entirely stainless steel – peeling paint just didn't seem like a healthy condiment for burgers.
So here are two grill purchase experiences that couldn't be more different. It was fun.
---
Part 1: The Local Patio Store Experience
So, I went to a nearby (<2 miles) patio establishment which advertised nicer grills. I arrived in the parking lot thinking they had moved or closed. Their sign is falling down, and only a couple of cars were in the lot.
I feel so sorry for them that I decided not to use their real name in this post.
Nope. Two, um, salespeople were behind the counter (the "auto parts" approach.) I walked into the grill section of their large, deserted showroom. They had a grill I liked. I Googled it for reviews and headed over to the counter. "In stock?" One of the salespeople tapped the stock info into a text-based inventory program. "Yep. In stock." The other person didn't trust the computer and called someone who agreed with the blasted thing. I did a little math. So, it's $xxx with tax, right? "Could you guys deliver it this week?" – I'm
less
than 2 miles away."We charge $50 for delivery."
(silence)
"Um, I'm just on the other side of _____ (very close), I could follow you over and help you unload the box, if you guys aren't busy, or we could schedule it later this week."
"$50. Policy."
I drove away from their decaying place wondering why in the world they didn't absorb the cost of delivery to sell a grill "right then"… they probably have $300-600+ profit, and their cost for the grill delivery would have been approximately $12.? I would have tipped them, too. What's more, they would have gained a neighborhood customer.
---

Part 2. The Ace Hardware Experience.
Ace Hardware at Tates Creek Lexington Kentucky
. I Gave them the grill specs of what I wanted – Josh gave details about several models, availability, delivery times. They were $45 above Amazon's price, and within $57 of buy.com, and no worries about damaged, heavy items or missing parts, plus good local karma. Also…. No assembly fee. No delivery fee, and someone who seemed really interested in selling me a grill.
I bought it on the spot
.
Grill arrives Tuesday. To Ace Hardware owner
Ron Manno and
manager
Jack Magro, my kudos to you and Josh.
Some readers may say – well, Ace has access to a large supplier network with warehouses nationwide, etc. TRUE! They are a large, highly organized enterprise. But the fact remains that the small mom and pop blew it, big time, by trying to squeeze every dime out of a customer. They operate as if there is no such thing as an "Ace Hardware" or a "Sears" or an "Internet." They use traditional marketing and hope for the best. But the other store had the grill 50′ away in their warehouse. There was no supply chain problem. They were simply trying to squeeze a dollar.