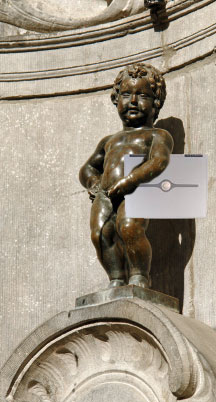 To all the restaurants offering free Wi-Fi, I say THANK YOU. I love it. Panera Bread led the pack, and more are offering it. But for those of us who are popping in for a quick lunch by ourselves, laptop in tow, what if we need to leave the table for a few minutes – to get a refill, grab our food, or pee?
My laptop is valuable to me mostly due to MY TIME spent installing all that damn stuff (and of course $1400 worth of Dell.) And while I can lock the data as I go, I have a hard time locking the machine itself. And while I don't carry any huge chunks of personal information on there, it would be nice to snap it on the table. So, how about adding some little security hooks on your tables I can loop my laptop cable through real quick?
It might someday prevent the hassle of having my machine stolen, or worse:
26.5 million U.S. veterans was on a laptop taken from the home of a U.S. Dept. of Veterans Affairs employee.
330k Social Security numbers of American Institute of Certified Public Accountants
243,000 Hotels.com customers were compromised in a laptop theft
13,000 D.C. employees info was let free when a laptop belonging ING U.S. Financial Services was stolen.
A laptop containing debit card information and Social Security numbers of 65,000 persons was stolen from YMCA's administrative offices.
A Boeing employee's laptop was grabbed at an airport, compromising 3,600 employees SS#s, addresses and phone numbers.
And I'll bet at least one of these people just went out to pee for a second.