Saw this in the checkout line at Kroger grocery store. They say never go grocery shopping hungry. You probably shouldn't go shopping broke, either. Too much temptation.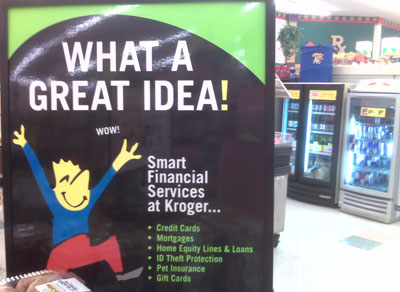 Actually what you see here is evidence of a slow, but important change in the retail and banking industry.  Kroger already owns a mortgage company, so that's no stretch, and the other services are easy if you have the capital. Costco and Wal-mart are getting into the banking business, so America is surely getting used to seeing it in non-traditional places. Banks must be scared to death of this – especially those with a branch RIGHT IN THE STORE. But many will simply be confused, probably, into thinking the branch in the store is related to the services.
In reality it's just an ad for services distributed via a website and via forms at the service desk.  It's just a bit odd to see it here. What's next, delis and soda coolers in banks?