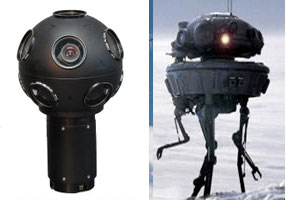 Wouldn't Google Street View be more interesting if Immersive told us when and where they were doing the photos? We could spruce up our businesses, pull up our pants, and line the streets with voluntary interestingness. Right now, people are just freaking over privacy concerns (good move on the removal system.) Let us wave! It's wierding people out that we aren't really sure when/if you're coming by.
But please don't sneak around like an imperial probe droid.
People already get nervous as hell when I used to carry around my camera with a right-angle lens for human interest shots, like this Opteka Voyeur Right Angle Spy Lens. I ended up stopping after using it only a couple of times despite the awesomely funny pictures you can get. People would stop me even when the camera was hanging from my shoulder, even though it was really hard to tell it was on there. Paranoia is pretty powerful.
Oh yeah…If you have a dark colored VW bug, you can have great fun right now by mounting a little tripod on top and putting something that looks like the camera (above) on top. You may get people acting nutty around you all day long, making your commute just a little less boring.
I guess it remains to be seen how many actually use the system. For tourism and relocation, this has to be one of the biggest leaps forward I've yet seen.
I'm certain it will shortly be integrated into auto navigation, hand-held systems, and even phones. I am sure people will find ways to use it in art, literature, and other socially fascinating modes.