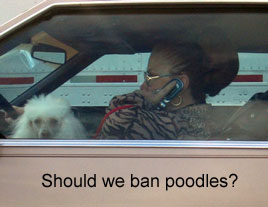 I've often been annoyed to see people holding cell phones while driving in tricky driving situations, and even more so when the other hand holds a cigarette or other item. But it's never been more than an annoyance. I shake my head and wonder what could possibly be so important to talk about that it couldn't wait until the roadway was less demanding. But today, I came within inches of a bad accident because of a young driver being on the phone and crossing three lanes of traffic at 45mph. It was really scary. They barely had their hands on the wheel…. and they definitely had their brain in neutral.
But I still disagree with any form of ban on cell phones while driving. It's a slippery slope that introduce a scary level of police intrusion into our lives based on what appears to be some flawed research. While New York (and others world wide) bans holding a cellular phone to one's ear while driving, they don't ban putting on makeup, or munching on french fries. Has anyone done any research to see how many accidents are caused by people frantically trying to find a place to pull over and talk to their boss or get directions? When a limited police force is out issuing tickets for "safe drivers using cellphones," who's watching the rusty red Camaro tailgate the minivan full of kids? What about accidents that happen while the policeman is writing the ticket (rubberneckers, traffic blockage.)
I don't think anyone should hold a cellphone while driving. Or put on makeup. Or hold a stupid poodle. While there's not a hands-free way to put on mascara or feed french fries yet, it's sensible for people to employ simple, cheap technologies for hands-off cell phone use. Bluetooth headsets are available for $20 now, less than a manacure for fluffy at the groomer's, and most decent phones have Bluetooth on them. These are simple to use and very comfortable. While the conversations are still distracting, at least the hands can be on the wheel.
Cell phone companies should provide clinics on how to set these up for people rather than staff their kiosks with clueless high schoolers who can barely communicate with less savvy customers. If Best Buy and others really cared, they'd provide a free bluetooth headset setup service with every cell phone they sold, along with safe driving tips for the customer. As it is, I'd guess that less than 20% of cell users know how to answer a call using bluetooth headset without looking at their phones.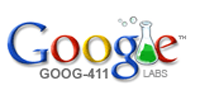 Google has made things even better with their new, Free 411 service, (1-800-GOOG-411) … you can use your voice to get lots of information, and be connected using your bluetooth setup. Make it speed dial number 1. The merchant will pay for the call. If you dial "411" on your phone, and spend $2.00 for directory assistance, you are seriously missing the boat at this phase.
Update: Search Engine Land reports that Microsoft has launched three new local search services from Tellme. I guess that's speedial #2.
personalpost