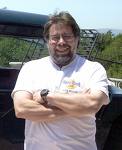 The first (and only) time I met Steve Wozniak was in a little laser tag arena in San Jose. He was there with what seemed to be a group of 20 kids, his Mercedes parked out side (license: "WOZ") and everyone seemed to be having a hoot.
We were all waiting our turn to go in and shoot the dickens out of each other and the kids made it hard to carry on much of a chat, but it was still a thrill. Much to my disappointment, the time to play came all too fast. I admire Woz on several fronts, and was thrilled to learn this morning that he's speaking at the Ideafestival September 13 and 15th here in Kentucky. I don't know Woz shot me that day (it was dark, and I was busy bumping my head on pint-sized tunnels) but he still made an impact.
I miss the Valley today.