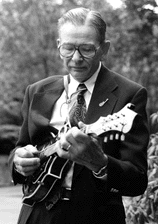 Homer Ledford was truly one of a kind. From the foothills he mastered the craft of building instruments (more than 6000 Dulcimers) that are cherished by musicians worldwide. I had the pleasure of enjoying his music (and his old-fashioned, wholesome jokes) in small picnic concerts in the parks near my home in Lexington. Homer passed away a couple of days ago, and with him a huge amount of talent. His band maintained a small website.
Listen to or Watch Homer on Woodsongs.
Homer Ledford was part of many lives and can be found in lots of books. You can find many Homer Ledford Products
online especially his Dulcimer maker book.
Homer was recently laid to rest in Winchester, KY with over 350 people in attendence. A slide show of the funeral is here.
Hey, I know it's not an SEO post, and this will probably keep me off the blogrolls of other search guys even longer, but I think its important to let people know about this. I will soon have wordpress and be able to tag my posts more appropriately.
Homer Ledford photos from Morehead State University and Kentucky Herald-Leader personalpost