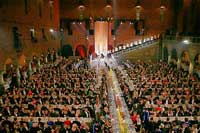 I wish I could give presentations about stuff like you find in this blog. I love it. I'm passionate about my work, and love to share it. It's great to get people laughing and to make folks think a bit.
But I had quite possibly my worst presentation ever a few weeks back. The room was boiling, I felt horrible, my slides worked great on my computer, but were misaligned once transferred to the room PC, there was no way to advance slides without standing behind the podium. And worst of all, I didn't know my audience. The hosts were super nice, and treated me to lunch, but it was a warm day, I was overdressed, and carrying (foolishly) a 30lb bag with my presentation materials and laptop through it all. By the fourth slide, I was a train wreck.
We all have these days. I just hope the attendees will forgive the quality of the whole thing. It seems they have, as the comments were all positive. So, I made a few notes and thought it worth sharing those with my readership about being comfortable for a presentation when it's impossible for you to visit the space ahead of time:
If you plan to tour the campus, have lunch or otherwise embark in the environment, find out what kind of walk it will be. Hilly, long, short, outside or in. If you're visiting a college campus and the tour is being conducted by students, remember they may be 20-30 years your junior, wearing tennis shoes, and so on. If it is going to be hot outside, you may want to excuse yourself from the tour or bring a second shirt and t-shirt in the car.
Check the weather. A lightweight umbrella is always a good thing. They are not for daily use, but I've seen them so small they'd fit in just about anything.
Ask the host how close the presentation area is to where you'll be parking. Find out if you can leave your materials in the car until just before the talk, or if there is a secured area you can put them.
Find out how the computer is set up. How does one advance slides – is it wireless?
Ask the host if they might send you a digital photo from the room. A cell phone photo is fine. Some places do not allow this, and let them know that's ok if it's not.
Bring your presentation on a USB flash drive and a CDROM. If it's DVD based, ask for the PC to be tested ahead of time. Make sure you save your presentation with the viewer, not just as a stand-alone PPT file. See Powerpoint help.
Make sure the tour doesn't run right up against your time to present. It invariably does, and you'll sometimes enter the room for your presentation tired, hot, sweaty or all of the above. It's better to linger for half an hour nearby, cool and confident than to pant through the door.
Use the restroom just before the presentation. I've sat through presentations where the presenter left the room and lost half the crowd.
Bring your own drink. The host may not think about it.
Turn off your cell phone. You may want to ask others to do the same.
Seth Godin – The Best Presentation
Overcoming Stage Freight
Speaking Ezine
Learn to get Paid To Speak (a bit of fantasy, perhaps, but fun read)
Sound Effects
Obsession to detail will save your neck 
Neil Patel's 10 tips for a Killer Presentation (New Addition)