Wow, been doing 14 hours a day lately. Writing, researching, SEOing, designing, reporting, analyzing, critiquing, marketing, emailing, blogging, RSSing, podcasting. Whew!
It was nice to learn that Matt Cutts, Google Celeb is from my home state of Kentucky. That's kinda cool. Sometimes it's hard to hook up with other SEO/Web Marketing folks who grew up around here.
We got a little snow today and it's darn cold. No accumulation, but the falling stuff looked pretty. December 1st. That will get the shoppers in the mood!
My voice mail box is full, full, full. And the reason? Well, it's lots of client calls (sorry guys, I'm trying, pleeeze use email) but Yahoo! decided to give out my toll-free number on their bills.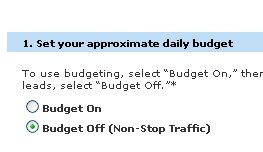 So, I am getting dozens of calls from grumpy Overture/Yahoo Search Marketing customers giving me an earful about how they didn't know they were spending $12500 last month on the keyword "small business". So that's what the "non stop traffic" button is for!
I sure wish I could go to Search Engine Strategies this weekend. I'd like to get to know the SEO community better and chat with some folks. I am somewhat isolated here at times. But they are holding it at one of the businest times of the year (holiday Retail) and I'm just slammed. Well, they're doing it again in Feb, but in NY, NY – making it a very expensive journey.
I'm continuing to ponder the name change for the firm to better suit the Search Marketing focus, but have no time to really put my mind to it.