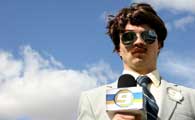 Hacker, Spammer, and Virus Writers' Motivations Shifting
A troubling shift was noted by computer security companies. Motivations for hackers and virus authors shifted from ego to cash, leading to recruitment of a new breed of talented, socially-aware programmers. With money on the line, the sloppy "fire and forget" mentality of previous virus creators is being trade in for much more rigorous and well-engineered solutions that are much harder to hunt down.
Bloggers and Social Networking Staff Get Official Titles and Departments
I could have skipped the stats and told you of Proctor and Gamble's "Holistic Customer Communication" department and that would probably make the point. But it's still amazing to hear the numbers, so here's a few. Technorati.com is tracking over 50 million blogs (41% in English) and that's doubling every 6 months. Yep, it's 175,000 new blogs created each day. While many quickly (and mercifully) die, it's possible for a single, influential blogger to change the course of a Fortune 500 company marketing plan or a political campaign. Suddenly PR firms have to learn to manage the "credibility gap" between their marketing message and the one formed by the blogosphere.
Location Awareness in Everyday Devices Gets Cheap.
The market for personal GPS systems is expected to double from Q3 to Q4 2006 to 2.3 million units and the price for aftermarket devices is dropping into the $300 range. With "GPS-on-a-chip" digital cameras which can tag every photo with a "where taken" location and cell phones that give directions, "mapvertising" and subscription-based proximity services have legs to stand-on. Combine this with RFID tags and other embedded location solutions to track and map even the smallest items.
Media Middlemen Are Starting to Find Things Dicey.
Content Creators are getting wiser and technology is getting better. With production and delivery costs a tiny fraction of traditional methods artists and producers can keep more of their advertising revenue as it gets sent directly to the bottom line. The video delivery to portable devices is expanding this network even wider. A musician with a Macintosh, a good Microphone and a quiet basement can now produce their own album and distribute it on the Internet for near zero cost. It's probably getting very hard to sign one's life away in a record contract anymore.
Citizen Journalisms with Phone Cams Turn Up EverywhereInternet-connected and camera-enabled mobile phones now make it possible to report digitally on news as it happens, and upload it to the web without anyone realizing it's happening. Videos and photos from cell phones began to be of usable quality for the evening news and the courtroom.Reputation Management Emerges (Emergency!)
With cameras, blogs, and emails recording every party and idiotic predicament you find yourself in, you may want to prepare explanations for those before heading over to the interview or asking for an investment. The Internet is inherently redundant, so deleting an embarrassing photo or blog post usually has little effect with sites like waybackmachine.com recording the Internet. People are suddenly thinking about their legacy on the web, and it's going to change the behavior of millions.
Bluetooth Hits Critical Mass, Advertisers Awaken Bluetooth phones are in just about everyone's pockets these days and the short-range networks are very inexpensive to set up (around $15 for the hardware.) Advertisers are now beginning to think of ways to use these, combined with the Internet, to build proximity-enabled marketing to draw customers closer to their stores, restaurants, and movie theatres.
The number of Linux Developers Matches the Number of Windows Developers. One of the main reasons here is the fact that many more developers than ever are working on web applications and most web servers are Apache (running on Linux) but there is plenty of evidence of a fundamental shift. It Microsoft 5 years and 10,000 people 5 years to create Vista – a gigantic corporate gamble. Will they be able to repeat that in the new world? Or will most office-like applications simply become part of the Internet?
Google launches "Docs and Spreadsheets" Together. Okay, Google had the Writely Word Processor and Google Spreadsheets before, but they were still boutique products. It took combining the two on the new Google "docs and spreadsheets" system to make this a tipping point for office suite software. If Google finally fires up a feature set that matches most of Office Vista, and gives it away, I think millions will skip the next Office upgrade. Yes, it was a rather small move, but I think it is changing the thought process of those using it more than any one web application ever did.
The First Wave of Bad Podcasts Died – Quality is Improving
When Podcasting started, and then again when iTunes started distributing them, lots of really awful podcasts launched. They were the worst – boring, useless and downright idiotic. They seem to be dying, and the first phase of purification is happening. I'm finding that many more podcasts I try out are worth subscribing to now. It's taken three years, but this hash-out bodes well for the channel. Podcasting has had a very slow run on the subscription side, and that puzzles me – but the medium is very, very young.