Local SEO
"Local Search Optimization" is a new way to let local advertisers reach local customers on the world-wide web without spending too much or advertising where they can't sell profitably or legally.
Geotargeted Pay Per Click
The Pay Per Click version of this is best shown by an example: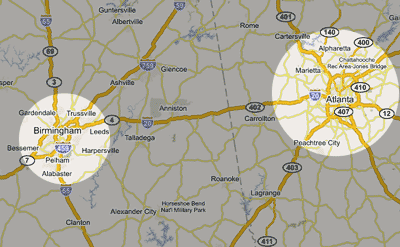 Imagine an advertiser who has warehouses located in two cities – Birmingham, Alabama and Atlanta, Georgia.
They could set up two ads – one for Birmingham:
Birmingham Warehousing
100,000 sq ft. Full loading support
Take a virtual tour of our facility
warehousepros.com/Birmingham
And one for Atlanta:
Atlanta Metro Warehousing
300,000 sq ft. Full loading support
Take a virtual tour of our facility
warehousepros.com/Atlanta
Each could send traffic to a specific landing page for that city, and distribute sales leads to the regional salesperson.
A Few Local Search Providers:
Google Adwords (Scott Clark is a Google Adwords Professional)
Yahoo! Local (Scott Clark is an Yahoo! Local Search Ambassador)
AOL Get Local
MSN Near Me
Verizon Superpages
Ask  Local
Who can benefit from local search solutions?  A few examples:
Service firms in a specific region.
Industrial suppliers looking for specific customers
Large-item retail, such as durable goods.
Wholesale firms wanting to market in certain regions.
Franchises with rules about where they can advertise.
Co-op advertisers in geographically-restrictive agreements.
Attorneys licensed only in a single state.
What are some advantages of local search marketing?
Improved conversion and reduced waste
Keying off brand names during consumer research
Exploring new markets
Providing localized messages in ads/pages.
So what can I do to help?
Set up and configure the tools you need.
Help you with some of the more obscure concepts.
Provide advice that is based on experiences I've had or heard about.
Measure and manage your effort with an objective eye.
How I Prep your site for local search (not in particular order)
Full Broken Link Scan
Site Tag Review
Site Content Review
Site Inner Links Anchor Text Review
Site CSS review
Spam Quick Check
Address Verification / Phone
Info USA Information Check
True Local Listing ($5/month – a steal)
Google Local Listing Check and Update
Yahoo Local Listing Check and Update
DMOZ update
Chamber of Commerce Directories
Business Resource Directories
Yahoo! Listings Check
Verizon Superpages Check
Text Link Ads search for a regional business portal
Possible complimentary reciprocal links
Article hosting exchanges.
Example:
On this screen, note that I did not type "Lexington" with my query, but only "Advertising", yet my firm was positioned at the top.  Now that's power.

click to zoom