Ok, my Vtech ip8300 DECT6.0 infoPhone was supposed to be in my grubby little hands by April, and it STILL doesn't seem to have shipped. This is the phone with Yahoo! Local built in making it, as far as I know, the first home phone that is directly affected by web marketing efforts.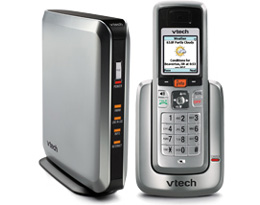 Well, you could argue that Google 411 is also* (speed dial #1 in my car – I love that service!)
I am also looking forward to seeing how the phone accepts news feeds. Hopefully it lets you use standard RSS and not some proprietary limited portal set. I'll use Yahoo! Pipes to make a nice small RSS feed for family information (e.g. school closings, forecast, traffic) that we can glance at from any room in the house. GEEKY!
But first I have to get the damn thing in my HANDS. Where is it?????
Hurry VTech, my old home phones are dying!!!!
*Little known fact:Â With Google 411, once you find the thing you're searching for, you can say "map it" and Google will send you a link to the map!